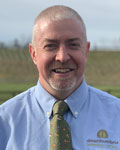 Simon Caple MA VetMB BSc(Hons) MRCVS
Small Animal Clinical Director
Simon graduated in 2000 from Cambridge University and worked in mixed practice before joining the practice in 2002 and is the small animal clinical director for Alnorthumbria Vets. Simon is particularly interested in dermatology, orthopaedics and osteoarthritis and in addition to his small animal work, he heads up the gamebird and poultry service offered by the practice. He also runs a small holding in his spare time. Fiona Brown BVM&S MRCVS
Fiona attended school in Alnwick and graduated from the University of Edinburgh in 1994. She spent five years working in a mixed, mainly small animal practice in Bishop Auckland then joined the Ponteland branch of the Aln Veterinary Group in 1999. She enjoys all aspects of small animal general medicine and surgery. Outside of work Fiona breeds pedigree Suffolk sheep and rare and minority breeds of poultry. Pam Brown BVetMed MRCVS
Originally from the Scottish Borders, Pam came to see practice here at Hampden and Simonside Vets in 2003 and hasn't left since! She graduated in 2005 and has worked as a mixed vet since, migrating to the Wooler practice in 2007 where she does mainly small and farm animal duties. Now married to a beef and sheep farmer in Wooler she probably won't be moving far. Pam is also involved in organising most of our farm vet and farmer meetings. Outside of work, Pam helps out on the farm, and loves endurance sports – swimming, cycling, running etc and in 2011 she walked from John O'Groats to Lands End during her sabbatical away from the practice. Henrietta Bowie BVMS MRCVS
Henrietta graduated from the University of Glasgow in June 2017 and began working with Alnorthumbria Vets. Henrietta has an interest in all animals great and small but particularly enjoys farm animal work having grown up in a rural village in Scotland. Outside of work she enjoys being in the outdoors whether it be running, cycling, walking or riding. Fiona Carragher BVM&S MRCVS
Fiona Carragher Fiona graduated from the Dick Vet, Edinburgh, in 1998 and initially worked in mixed practice. She then followed a small animal career path, moving to a veterinary hospital in Newcastle, where she developed a specialist interest in small animal medicine. Fiona initially worked at the Fairmoor branch before having a family. Following the birth of her children, Fiona returned to work at the Amble surgery where she currently works two days a week. Fiona is experienced in all areas of small animal medicine and surgery. She has a particular interest in feline medicine and regularly takes her work home with her - three rescued cats, two rescued rabbits and a rescued dog at home currently. Sophia Chinn BVetMed MRCVS
Sophia graduated from The Royal Veterinary College and spent six years in mixed practice in Hertfordshire and Kent/Sussex. After a year working and travelling in Australia and South America she returned to her home to join Alnorthumbria vets in 2007. She works with small animals and has a broad experience in all aspects of small animal medicine and surgery. She is particularly interested in internal medicine, diagnostic imaging (ultrasonography, radiography and endoscopy) and the management of chronic pain. Sophia has completed the Western Veterinary Acupuncture course and performs acupuncture on small animals and horses. Outside of work Sophia has three small children which keep her very busy with various sporting activities and Pony Club. She enjoys walking and running with her Border Terrier Bertie, riding and skiing.
Amy Cotter BVM&S MRCVS
Amy graduated from Edinburgh University in 2011, having also grown up there it was time for a change after University and she moved up to Dingwall in Ross-shire to work in mixed practice for two years. A move to Swindon in 2013 saw her move to small animal only practice. She joined Alnorthumbria in 2014 where she was originally based in Morpeth but has since moved up to the Alnwick branch. Amy enjoys all aspects of small animal medicine and surgery but has particular interests in cardiology and soft tissue surgery. Outside of work she enjoys dog walking with her Border Terrier, Finn and travelling as much as she can. Richard Cuthbert BVSc MRCVS
Richard grew up in Belsay and school in Ponteland, before qualifying in 2008 at the University of Liverpool. He then spent seven years working in the Yorkshire dales as a mixed practitioner, a calving season in New Zealand, and returned to Northumberland in 2016. He currently enjoys farm and small animal work, and is working towards his post graduate certificate in advanced small animal surgery. Outside of work, interests include skiing, hiking, and home brewing.
Kirsty Keron BVM&S MRCVS
Kirsty has been working in mixed practice since graduating in 2015, first in Aberdeenshire then after a year she moved to Alnorthumbria. Kirsty works mostly out of Wooler seeing everything from dogs, cats and rabbits to cattle and horses and she enjoys the variety of working in a mixed practice. In Wooler we have the Cheviot Hills on our doorsteps and when she is not working Kirstie can be found out walking with her Labrador 'Logie'. Claire Riddell BVM&S MRCVS
Claire qualified from Edinburgh University in 2004, and has worked for the practice ever since. Working out of the Alnwick branch, she does a mix of farm and small animal work and enjoys all aspects of mixed practice. Her areas of particular interest are small animal medicine and flock/herd health and production. She is currently studying for a certificate in Advanced Veterinary Practice, and has recently completed a foundation course in veterinary acupuncture. Out of work, Claire enjoys running in the hills, skiing, walking her dogs, and cooking. Repeated attempts to improve her garden are thwarted by a lack of time and skill! Lucy Robertson BVM&S MRCVS
Lucy graduated from Edinburgh University in June 2007 and joined Alnorthumbria as a small animal vet in December 2009. Lucy is based at our Wagonway Road surgery in Alnwick and has a particular interest in small animal soft tissue surgery. In her spare time she enjoys open water swimming, dabbling in short distance triathlons, walking her dog and eating out. She is married with two children.
Adam Spiller BVSc MRCVS
Adam qualified from Bristol University in 1995. His working life began in Cumbria with three years of mixed veterinary work after which he locumed in both Britain and New Zealand. On his return Adam worked in rural practice but his workload became progressively more small animal biased. In December 2003 he joined this practice and now works solely with small animals. In September 2006 he gained a General Practitioner Certificate in Small Animal Surgery. Outside work his interests include fell running/walking, rock climbing, skiing, mountain marathons, mountain biking and alpine mountaineering.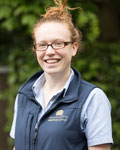 Katie Wynne BVM&S MRCVS
Katie graduated from Edinburgh University in 2015 and worked down in East Yorkshire as a mixed vet for one year. Being from Newcastle originally she wanted to move back to the area so has been with us ever since. Katie is normally based at the Morpeth hospital although you may see her out and about doing some farm work too. Having recently bought a house in Northumberland most of her spare time is spent exploring the area with her rescue dog Heidi.