This year over 150 outbreaks have already been diagnosed and the diagnosis of positive cases is continuing. July 2019 outbreaks are shown in the map to the right. The outbreaks have had a far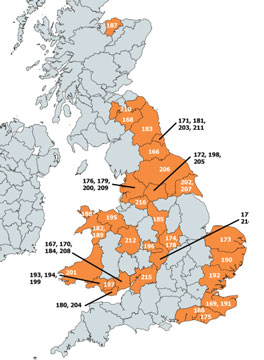 reaching effect on the UK horse racing industry, leading to the cancellation of racing for six days after flu was diagnosed in horses on an active racing yard.
The outbreaks have been widespread showing how easily the disease can be transmitted. Most cases have occurred in non-vaccinated horses, who have shown marked clinical signs, and sadly two horses have died.
Some vaccinated horses have also tested positive for flu, but it is very important to remember that these horses have experienced only mild or absent disease signs.
To reduce the risk of your horse developing the severe clinical signs associated with flu it is very important to vaccinate according to your vet's advice. It is also important to vaccinate to reduce the chance of your horse spreading disease to other horses.
A primary course of three vaccinations is required, followed by regular booster vaccinations to maintain immunity. Between the second and third vaccinations the antibodies (which help to protect your horse from flu) fall below the necessary level, leaving your horse susceptible to infection in the period known as the immunity gap (see graph below).
The third vaccination increases the level of antibodies above the necessary level, thus ensuring your horse remains protected. Two vaccinations simply aren't enough. Following the primary course regular boosters are required to maintain this protective level of immunity.
This article is part of our august 2019 equine newsletter.
You can read the full newsletter here.