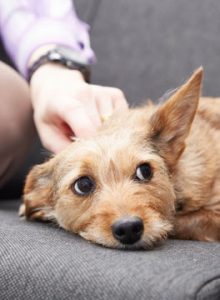 Like so many businesses across the country, COVID-19 has had a big impact on Ashington and Seahouses. It has been challenging to provide the best urgent and emergency vet cover for our clients whilst maintaining a safe working environment for our clients, their pets and our practice colleagues.
We have therefore taken the difficult decision to close Ashington and Seahouses permanently as of 30th July 2021. We sincerely apologise for any inconvenience caused.
What this means for you
We appreciate that many of you will be disappointed after many years of service at Ashington and Seahouses. Pets' clinical histories are held within the secure Alnorthumbria database, accessible by the teams at any of our Alnorthumbria sites.  This enables us to continue to give care to your pet, without interruptions or delay.
Initially, all Ashington records will be transferred to our main site at Fairmoor Veterinary Hospital in Morpeth and Seahouses records will be transferred to Alnwick. It is a simple process to transfer to an alternative Alnorthumbria branch. Contact Morpeth or Alnwick who will be able to arrange this.
Our teams at any of our branches look forward to welcoming our Ashington & Seahouses clients and their pets.
Visit our website to find out more about more information on all of our Alnorthumbria branches:  https://alnorthumbriavets.co.uk/our-practices/
Healthy Pet Club
Membership of The Healthy Pet Club will automatically transfer to Morpeth for Ashington clients and Alnwick for Seahouses clients, together with account details. Members can continue to enjoy their usual discounts and savings.
Please note: there will be a change in the Healthy Pet Club reference number, which will show as different on bank statements for the monthly direct debit.  Any concerns regarding membership, or transfer of membership to a different Alnorthumbria branch, please contact hpc@cvsvets.com .
How to contact us
If you have any concerns about the health or welfare of your pet, the permanent closure of Ashington or Seahouses or you would like to arrange a pre-booked appointment for your pet, please call us.
Ashington – up to 30th July 2021:     Tel: 01670 852 137
Seahouses – up to 30th July 2021:    Tel: 01665 721800
 From 31st July 2021
Out of Hours
This change will not affect our Out of Hours, emergency service.
Please call to book an appointment before attending the practice. This includes for the collection of flea and worming treatment, other medication and food.