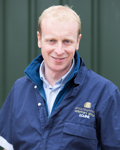 Edward Chinn BVetMed CertEP MRCVS
Equine Clinical Director
Edward qualified from the Royal Veterinary College, London in 2001 and worked in mixed practice with an equine bias in East Sussex for five years. After a year working and travelling in Australia and South America he joined Alnorthumbria Vets in 2007. Edward attained the certificate in Equine Practice in 2009, he became a partner in 2012 and Equine Clinical director in 2015. He is especially interested in equine dentistry, lameness investigations, wound management and surgery. He is on the veterinary panel for both Newcastle and Kelso Racecourses and also works at local point-to-points and events. Edward grew up on a Herefordshire farm where he enjoyed hunting and working with home-bred point-to-pointers. Lesley Barwise-Munro BSc BVM&S CertEP MRCVS
Lesley graduated from The Royal Dick School of Veterinary Studies in 1986 and has worked at Alnorthumbria ever since. In 1992 she completed her RCVS Certificate in Equine Practice. Lesley joined BEVA Council in 1998 and was elected as President in 2005. Her work during her time on BEVA council was recognised by presentation of The BEVA Equine Welfare Award by HRH the Princess Royal in 2006. Lesley is currently Honorary Vice President of The National Equine Welfare. Lesley is senior veterinary surgeon for Newcastle Racecourse and also carries out local point-to-point duties. Lesley was an equine vet at the Olympics at Greenwich Park in 2012 and at Rio in 2016. In 2014 Lesley became an official veterinarian for FEI competitions. Outside of work Lesley enjoys hunting and skiing when time allows.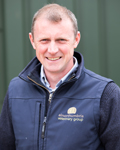 Stephen Bradley BVMS Cert EP MRCVS
Stephen grew up on a suckler cow and sheep farm in Northern Ireland. He graduated from Glasgow university in 1999, coming to Northumberland on 2003. Stephen is interested in cattle and sheep fertility, enjoys surgery, post mortems and health planning. Outside work he has his own sheep flock, a few heifers and three children.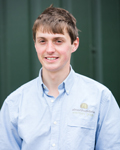 Euan Hammersley BVMS MRCVS
Euan grew up in Ayrshire surrounded by horses. He qualified from the University of Glasgow in 2017 and joined the equine team in July of the same year. He is a qualified FEI treating veterinary surgeon and has a particular interest in lameness and surgery. Euan has continued to event and show jump since being at school and is looking forward to having his horse Donnie with him in Northumberland. Alongside ridding Euan enjoys cycling, walking and skiing. Jessica Lin BSc BVMS MRCVS
Jess joined both the equine and small animal teams in Alnorthumbria in Morpeth in June 2017. She graduated in 2015 from Murdoch University in Perth, Western Australia. Following graduation, she completed an intensive internship at Rainbow Equine Hospital in North Yorkshire, where she worked with a variety of patients from top racehorses to towering shires, stubborn donkeys, and miniature foals. Her experience at a busy referral hospital has left her with particular interests in lameness work-ups, wound management and colic cases. Jess goes abroad whenever possible and has also volunteered with various NGO's to provide veterinary care to those less fortunate in India, Thailand, the Cook Islands, South Africa, and remote indigenous communities in Australia. Jess grew up with a menagerie of pets including iguanas, small furries, cats, dogs, and a horse. Outside of work, you will find Jess hopping on a plane to explore new countries, outside exploring the UK's beautiful national parks, training for her next long-distance race, or bundled in a wetsuit surfing or kitesurfing out at sea! Max Ling BVMS MRCVS
Max joined Alnorthumbria in September 2016 after spending a year in Tipperary, Ireland working as an intern in a large equine referral hospital which specialised in racehorses and performance horses. Max graduated from the University of Glasgow in 2015 and now works as a mixed vet concentrating on farm and equine work. His main interests include lameness, surgery and anaesthesia. Max is also an FEI treating veterinarian and enjoys working at local FEI events throughout the summer. Originally from the area he spends the majority of his time on the Northumberland coast or away in his campervan where tries to kitesurf, surf and ski whenever he can. Kate Logan BVMS Cert EP MRCVS
Kate joined Alnorthumbria in 2014. She grew up around horses and evented whilst at school. Kate graduated from Glasgow University Veterinary School in 2004 and completed an equine internship in an equine hospital in West Sussex where she was responsible for care of the inpatients, scintigraphy and performed most of the in-house frozen AI. Kate also developed a keen interest in equine anaesthesia during this time. Kate then moved home to Scotland where she worked in equine practice for the following nine years caring for a varied case load from eventers and race horses to hairy ponies. Kate completed the RCVS certificate in Equine Practice and has also spent some holiday time working with equines abroad. Kate has broad experience in equine practice but has particular interests in dentistry, equine anaesthesia and equine reproduction. Kate is looking forward to getting out and about and making the most of the beautiful Northumberland scenery with her bouncy Hungarian Vizsla, Inca who keeps her very busy during her free time.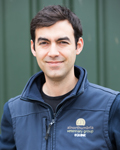 Gonçalo Silva DVM Dip. ACVIM MRCVS
Gonçalo graduated from the Technical University of Lisbon, Portugal in 2008. With a degree in veterinary medicine, in 2012, he started a large animal internship at the Ontario Veterinary College, Canada and later began his residency training in large animal internal medicine. Having completed the residency program in 2016, he became a diplomate of the American College of Veterinary Internal Medicine large animal internal medicine in early 2017. Gonçalo will be receiving his Doctor in Veterinary Medicine degree this October. Gonçalo's interests include equine cardiovascular, respiratory, gastro-intestinal diseases, as well as investigating cases of weight loss or fever of unknown origin. In his free time, Gonçalo enjoys running, photography and travelling.